UPDATE (4/14/2016): Since we first published this post, many jurisdictions, including California and New York, have enacted laws to establish $15 minimum wage standards. Even more cities, counties and states have ballot measures and legislation in the works to boost local minimum wages to $15 as well. These victories are the direct result of the countless brave working men and women who are raising their voices, going on strike and standing together to demand a fair return on their work for themselves and those that follow.
When the Fight For 15 kicked off in 2012, critics described the idea as "ludicrous," "absurd" and "not a reasonable approach." Three years later, multiple cities have $15 minimum wage laws on the books, major corporations like Aetna have raised their starting pay to $15 an hour, and communities and lawmakers across the country are pushing for similar increases. Just yesterday, the New York Fast Food Wage Board recommended raising the minimum wage for fast-food employees to $15. Today, fast-food, childcare, and homecare employees across the country are rallying in support of the Wage Board's decision, calling on policymakers in their cities to follow suit.
Clearly, politicians and activists from Washington, DC to Los Angeles County, California know that $15 an hour is neither ludicrous nor absurd. In fact, a $15 minimum wage is what people need to survive. Here are some reasons why:
1. The cost of living in the United States is prohibitively high if you make less than $15 an hour – no matter where you live.
The Massachusetts Institute of Technology (MIT) Living Wage Calculator estimates the amount an adult needs to earn to make ends meet, adjusting for geography and household composition.
In Washington, D.C., for example, the calculator estimates the following:

That's right. Looking at common household types, only a single adult with no children could get by on less than $15 an hour in D.C.
Of course, the Washington, D.C. area is notoriously expensive. So let's look at Cameron County, home to Harlingen, Texas, the city that topped the CBS News list of the 10 cheapest places to live in America.

Again, a single adult can get by on less than $15 in Cameron County, TX. But many of the other households listed cannot. Single parents and married couples with only one working parent need far more than $15 an hour. Even a two-working-parent household with three children needs two incomes of nearly $15 an hour to make ends meet.
2. American households are changing.
Most anti-poverty laws are created with a two-parent household in mind. Recent shifts in household composition indicate that this approach might be misguided.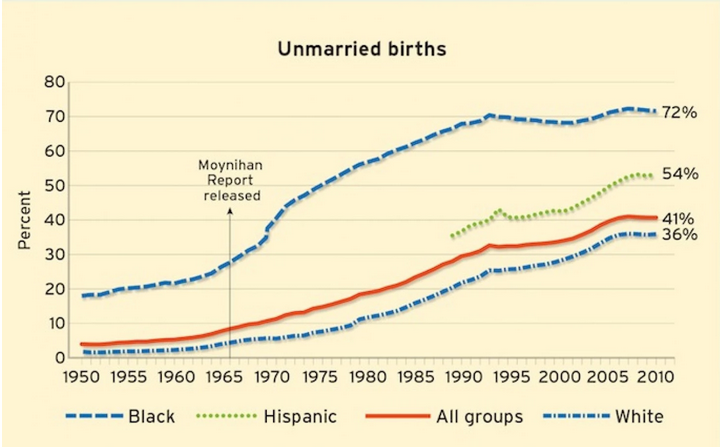 According to U.S. Census data, in 2014, 27.49 percent of children lived in single-parent households (with either male or female household heads). Census data also reveals that the mean family size for a female-headed household is 3.1, meaning a large number of families sit in that 1 adult 2 children category.
Let's go back to those living wage charts. A living wage for a single parent with two children in Cameron County, Texas is $23.21. In Washington, D.C., it's $37.81! A $15 minimum wage is far from ludicrous – it's not even enough.
3. The rent is too damn high.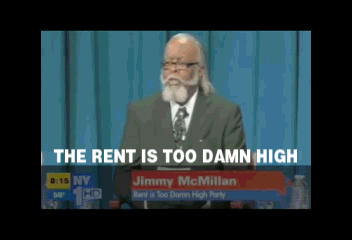 Standard wisdom says you should never spend more than 30 percent of your income on rent. The National Low Income Housing Coalition took a look at what this meant for people being paid the minimum wage. Their researchers calculated how many hours of minimum-wage labor were needed to rent a one-bedroom apartment in each state: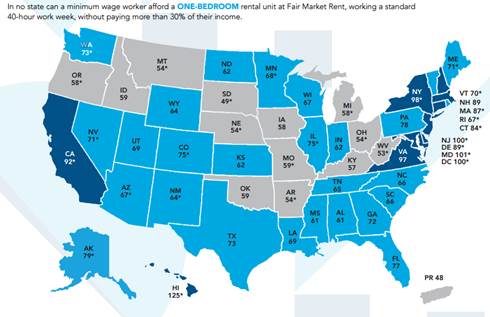 Gone are the days of the 40-hour workweek. Minimum wage at 40 hours a week won't pay your rent in any state. The closest you can get is 48 hours in Puerto Rico. On the opposite end, minimum-wage earners in Hawaii need to work 125 hours a week to rent an apartment spending only 30 percent of their income.
With a $15 minimum wage, more parents could work 40 hours a week and could be in a better place to sustain their families.
4. The people who are paid low wages tell us they need $15 now.
Amanda Monroe, a single mother who works in the fast-food industry, explained how a $15 minimum wage would change her life while testifying for the New York Fast Food Wage Board last month.
Yesterday's announcement is great news for the state of New York. Far from "absurd," a $15 minimum wage is the bare minimum Americans need to be paid to have a good life in today's economy.