Spring 2022 Newsletter
---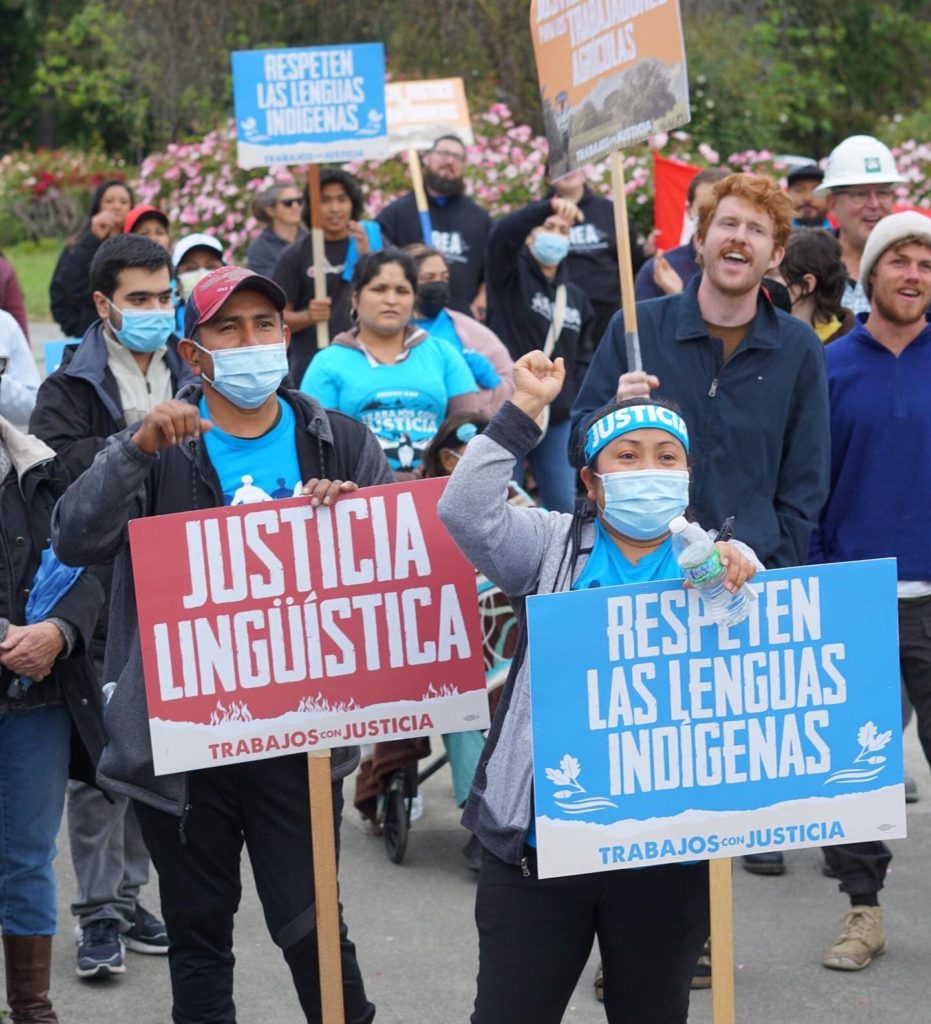 Welcome to the 2022 Spring edition of the Jobs With Justice newsletter! This newsletter gives you – our most dedicated supporters and allies – a way to dig into Jobs With Justice and our network's ongoing campaigns and work throughout the year. We hope you enjoy!
---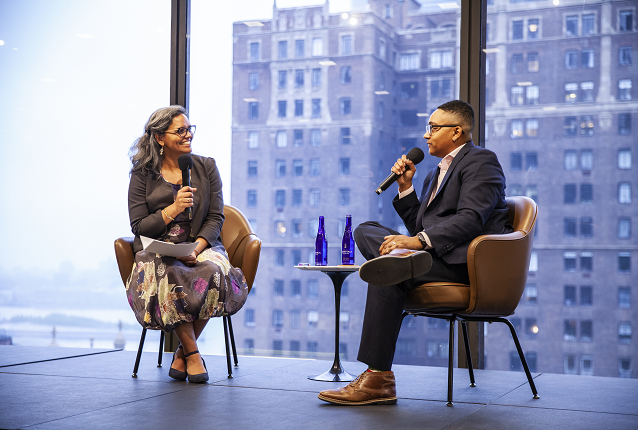 On May 2, the Ford Foundation Center for Social Justice hosted some of Jobs With Justice's closest movement friends and allies for a convening celebrating the launch of Erica Smiley and Sarita Gupta's new book, The Future We Need: Organizing for a Better Democracy in the 21st Century. The night was filled with great food, immense laughter, and comradeship.
To read more about the event, click here.
---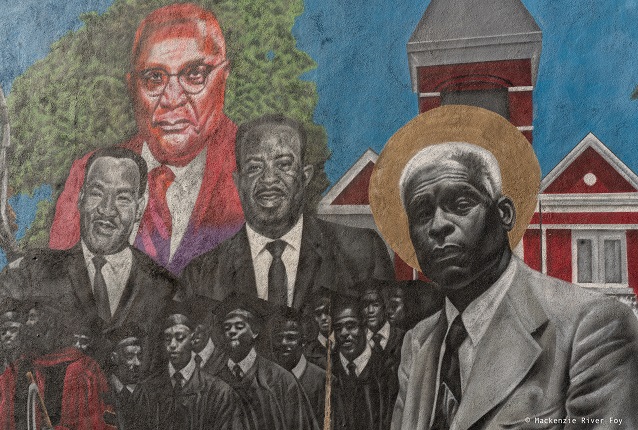 In March, we launched our inaugural 2022 Advancing Black Strategists Initiative (ABSI) Movement Fellowship, and it was an incredible week. ABSI fellows, advisors, and supporters convened in the city of Atlanta at Morehouse College, excited to meet and build with each other and to make good on our mission to invest in the next generation of Black leaders. The week solidified that it's more apparent than ever that we are uniquely positioned to fulfill that promise and the ABSI fellows will represent some of the best of Black organizing taking place in the country.
ABSI coordinator Jason Tomlinson wrote a wonderful synopsis of the event on the ABSI website. Recapping the beauty of the space, Jason said, "We leave this week inspired after being in the presence of incredible Black minds—from faculty and staff to service workers—who all provided such an amazing and inspiring backdrop to continue our collective work to transform the future of the labor movement."
---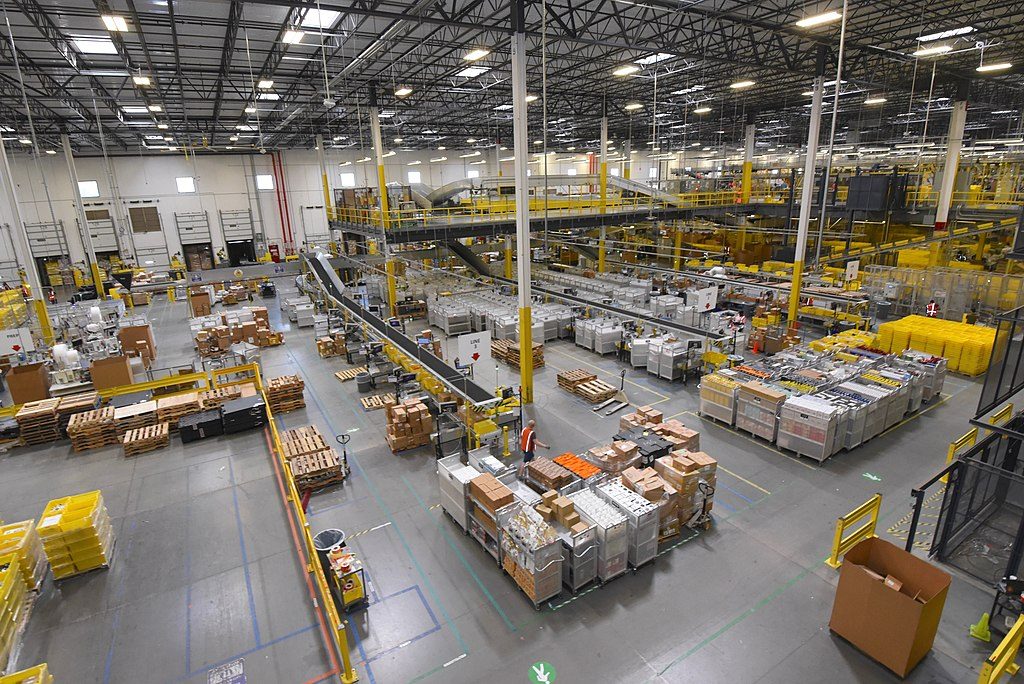 In what can undoubtedly be considered one of the most significant labor victories in recent memory, Amazon warehouse workers in Staten Island voted to unionize, becoming the first Amazon employees in the United States to do so. The Amazon warehouse, known as JFK8, was granted unionization on April 1 after the National Labor Relations Board (NLRB) tallied votes and officially recognized the union. Speaking to supporters of the campaign, warehouse leader Chris Smalls said, "Today the people have spoken and the people wanted a union," he told supporters "… We wanna thank Jeff Bezos, cause while he was up in space we was signing people up."
Jobs With Justice congratulates the Amazon warehouse workers of facility JFK8 on their historic victory over Amazon. We also continue to stand in solidarity with Amazon workers in Staten Island, Bessemer, Alabama, and anywhere else where workers want to a voice at work.
---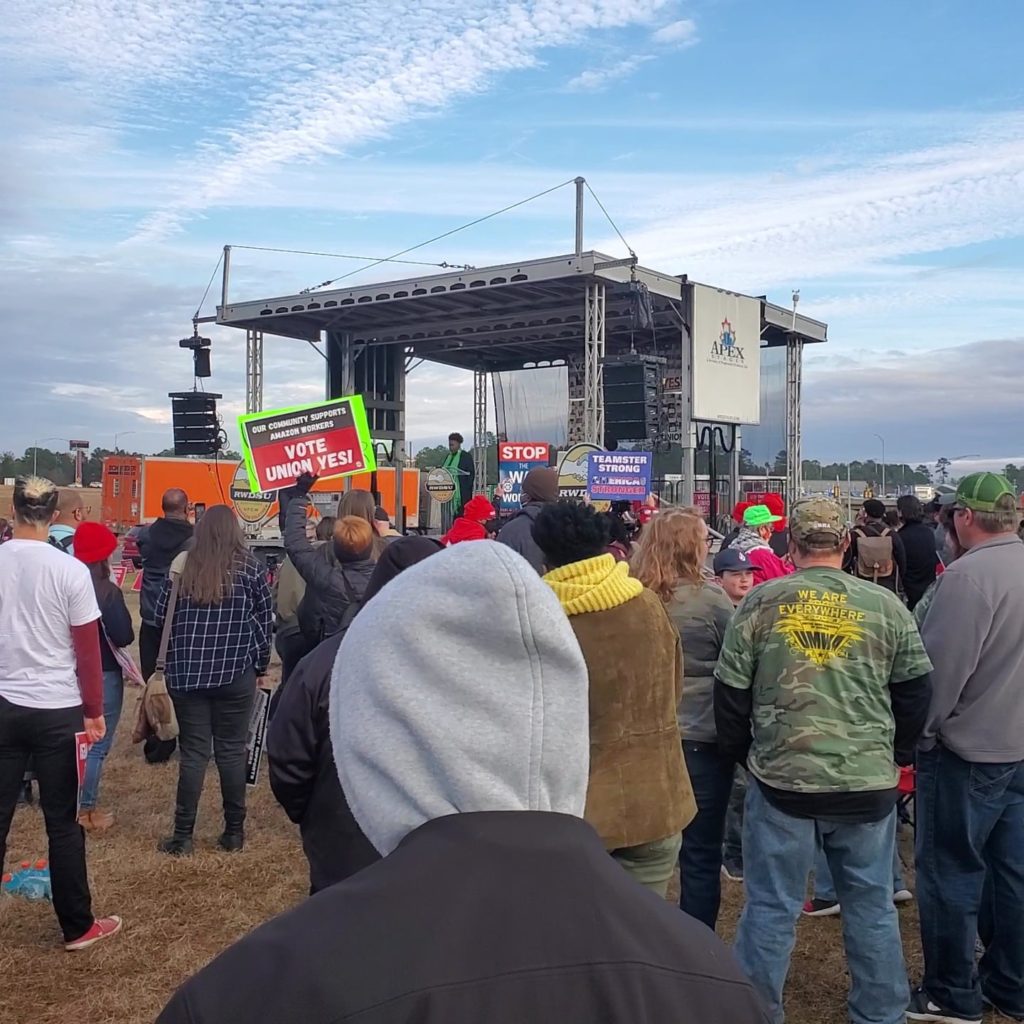 When the vote tallies were counted and determined that Amazon's Bessemer warehouse plant did not reach the needed vote threshold last Spring, there was a lot of angst and reflection about what went wrong. For Patricia Todd, Southern Policy Manager at Jobs to Move America, it meant one thing; continue to organize and educate workers. "A lot of workers that we've talked to here in Alabama don't believe that they benefit from a union, and they think that all that money goes to a union boss who goes on luxurious vacations because that's what the company tells them."
In November 2021, an NLRB official threw out those results, citing election interference from Amazon, paving the way for a re-run of the election between Retail Wholesale and Department Store Union (RWDSU) and the corporate giant. As of this newsletter's publication, the final tally in the re-run election was still too close to call as organizing workers once again charged Amazon with interference and intimidation, among other allegations.
There were many instances of inundating workers with anti-union propaganda, Todd recalls. Amazon's torrential union-busting efforts amplified and solidified the need for solidarity, and workers took that approach throughout the campaign. "We had teams of people go out and target beauty shops, barbershops, corner gas stations around the plant, and we could not have done it without the assistance of Jobs With Justice and the Black Worker Centers from California, Louisiana, and North Carolina," said Todd.
As a state politician for 12 years, Todd understands the value of narrative in constructing lived reality and feels like there's still meat left on that bone. "We have to figure out how we can change the narrative and let them know that union jobs are better than non-union jobs…How do we develop these messages and info campaigns directed at workers that are settling for sub-wage jobs with safety issues?"
---
Jobs With Justice organizer Sam Nelson penned an article in The Forge exploring Amazon's HQ2 planning and organizing in the face of the corporate behemoth's weight and power. Nelson contends that for working people need both structure and solidarity throughout all phases of a campaign to secure victories. He argues:
"To truly take on a megacorporation like Amazon, we must go against it wherever it is — from rural areas to cities, from tech offices to warehouses — and we must build coalitions with whichever groups it harms. Community-labor coalitions are not new, but the number of groups directly or indirectly harmed by Amazon through its support of the carceral state and deportation machine, its contributions to climate change, and its role in gentrification is unprecedented. Amazon has negatively impacted the lives of a huge number of working-class people, and they are all part of our potential base. Finally, we must target our campaigns to extract maximum pain by creating bottlenecks in the company's "value chain… we must be willing to dig in for the long haul and accept that victory won't look like clean majority NLRB elections."
---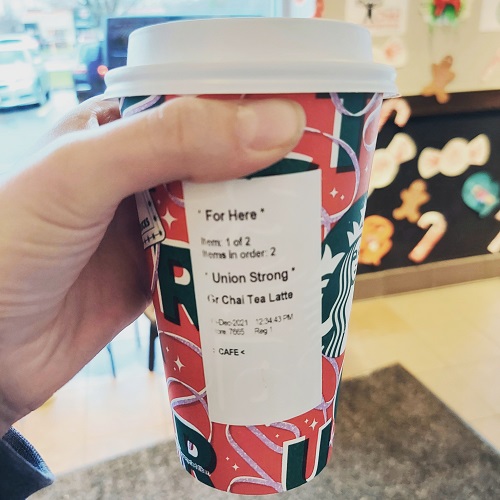 There is undeniable energy across the American workforce in support of unionizing, and workers at the nation's largest coffee merchandiser have sustained that momentum. Since December 2021, when a Buffalo Starbucks location became the first of the company's 9,000 franchises to unionize, workers at 49 other Starbucks stores have voted in favor of unionizing, with workers at dozens upon dozens of different locations in the process of scheduling union votes. In late April, the company's flagship store in Manhattan, voted 46-36, became the largest location to unionize. Jobs With Justice has taken an active role in supporting and empowering these workers. Jobs With Justice coalitions in Buffalo (Coalition for Economic Justice) and Ithaca (Tomkins County Worker Center) have actively organized their communities to support unionizing workers. That support included pounding the pavement with community members and customers to show solidarity with the baristas and providing a space for organizers and community members to strategize and mobilize.
Speaking on the value that baristas create for the company, Starbucks employee Casey Moore said: "Because it's a public-facing job, the baristas are the face of Starbucks…. Some people like to say that robots can come in, but they are not working at Starbucks! If they think that robots are gonna make your caramel macchiato the way you want it with extra caramel drizzle…that's just not the way it works! We're the ones who are in the stores day in and day out. We know how to make these stores work the best."
---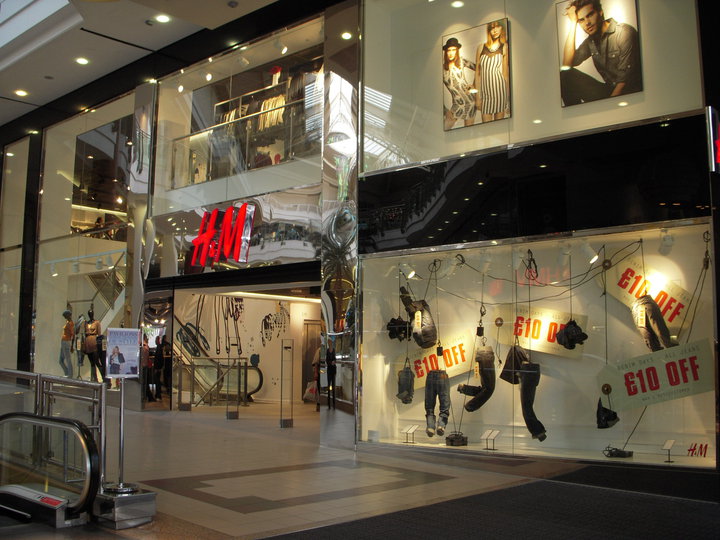 After over a year of negotiating, H&M signed a binding agreement with the Tamil Nadu Textile and Common Labor Union (TTCU) with Asia Floor Wage Alliance and Global Labor Justice as co-signatories. Under the terms of the agreement, all workers, supervisors, and executives will have to undergo gender-based violence training, and the TTCU will recruit and train female workers as "shopfloor monitors" who will ensure women are protected from verbal harassment and sexual intimidation.
Under this groundbreaking agreement, women will now be able to report sexual harassment anonymously to an independent panel that will have the power to dismiss perpetrators and seek financial compensation for victims and their families. State President Thivya Rakini and General Secretary Jeeva M embarked on a speaking tour across the United States with the assistance of Jobs With Justice. They visited ten cities and spoke with hundreds of worker leaders, union officers, and organizers from over 50 unions and organizations, connecting struggles and strategies across borders and issue areas. Currently, this is only the second binding agreement of its kind and the first dealing with gender-based violence.
---
You've probably read doomsday headlines about the United States Postal Service (USPS) losing billions of dollars year after year. Most of those losses were caused not by declines in mail volume or workers making too much, but by a provision in a 2006 law that mandated USPS to set aside money to pay for worker health care 50-years into the future.

On April 6, President Biden signed the Postal Reform Act into law, eliminating this post-retirement health mandate. Passing the Postal Reform Act would not have happened without organizing and pressure from dozens of advocacy groups, including Jobs With Justice. Jobs With Justice activists sent 5,373 letters to U.S. senators calling on them to pass the Postal Service Reform Act. At the same time, Jobs With Justice local coalitions in Arizona, Cleveland, Massachusetts, and Portland organized local actions supporting postal workers.
Despite this landmark victory, many challenges remain, threatening postal workers and our public post office.
For example, Postmaster General Louis DeJoy has slowed delivery standards and is expected soon to make a push for local post office closings. He is already outsourcing mail processing to new Surface Transfer Centers, staffed by low-paid, non-union workers. DeJoy is pressing hard for a once-in-a-generation replacement of postal vehicles with non-union built, fuel-inefficient gasoline-powered trucks, rather than electric vehicles (EVs). Investing in EVs would slash operating costs, reduce maintenance costs, and keep USPS costs competitive with UPS and FedEx, both of which are investing heavily in EVs.
For USPS to thrive, it must invest in innovation, including postal banking, a policy long championed by Cleveland Jobs With Justice. Jobs With Justice and the Institute for Policy studies recently co-authored a paper highlighting a list of innovative public service investment ideas USPS could consider.
---
Check out Time Magazine's feature of our important work in Harris County, Texas.
---
On April 15, Jobs With Justice Executive Director Erica Smiley and Sarita Gupta, Ford Foundation Vice-President of US Programs released their book, The Future We Need: Organizing for a Better Democracy in the Twenty-First Century.
The book illustrates the necessity of centralizing the fight against white supremacy and gender discrimination while offering paths forward to harness the power of collective bargaining in every area for a new era. Grab your copy of the book here and check out this great profile of Smiley and Gupta in Fortune here.
---

At this year's LRAN conference, we hope to encourage discussion, sharing, and strategizing for a more just future by honoring workers' critical voices in our fight for justice. Co-hosted by the Morehouse College International Comparative Labor Studies program, this year's LRAN conference invites participants from universities, unions, worker centers, policy organizations, and others involved in the work of labor justice. There is also a special worker songwriting contest with a $1000 prize! The conference is June 21-22 on-site at the Shirley A. Massey Executive Conference Center in Atlanta, GA and will also have a virtual option. Sign up here!