Too often, when immigrant workers assert their labor or civil rights or organize for better working conditions, they face threats of immigration enforcement from unscrupulous employers seeking to silence them. This retaliation undercuts workers' ability to enforce their rights and results in more dangerous workplaces and lower wages for all workers.
Reps. Judy Chu (CA-28) and Robert C. "Bobby" Scott (VA-03) have reintroduced the Protect Our Workers from Exploitation and Retaliation Act, also known as the POWER Act (H.R.1828), which provides a solution to this problem by giving greater protections to workers who want to stand up for their rights and strengthens the ability of labor agencies to enforce our nation's labor and employment laws.
Last week, Rep. Chu hosted a congressional briefing alongside Jobs With Justice and other partners, union representatives, and colleagues from other labor organizations. Legislators and their staff had the opportunity to hear from workers about employers' threats and retaliation for demanding their labor rights.
"We tried to negotiate for better working conditions, and instead, the company decided to spend 1.8 million dollars on a group of anti-union advisors to harass us and spread fear."

Milagro Tortillas' worker, ARISE Chicago
Members of Congress, including Reps. Chu and Silvia Garcia (TX-29) attended, and Rep. Chu spoke of her commitment to these workers and their efforts to see this bill a reality, "I was thrilled that earlier this year, the Department of Homeland Security announced that noncitizen workers who are victims of violation of labor rights can now access an expedited form of relief from deportation as they cooperate with labor standards investigations. However, this process provides no path to permanent legal status, and can be rescinded via future executive order. The POWER Act would build on and codify DHS's new policy and deliver definitive protection so that we can permanently put an end to threats to immigrant workers and improve workplace conditions for all Americans."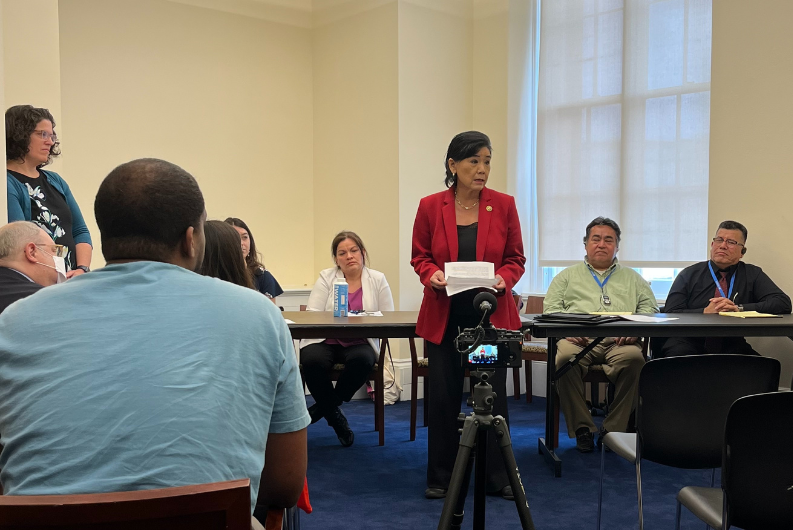 Today, 19 members of Congress have cosponsored the bill due to the persuasiveness of the brave workers who have spoken out and the efforts of Jobs With Justice and its partners, the AFL-CIO, SEIU, the National Immigration Law Center, the National Employment Law Project, and ARISE Chicago, IUPAT, and many other unions and worker advocates.
Further, we are in conversations with Sen. Robert Menendez (NJ), a long-time supporter of workers' rights and of this bill in particular, to arrange the bill reintroduction in the Senate later this year. We are committed to continuing recruiting supporters and educating the public until the bill passes and these labor protections are available to all workers.