If you want to inspire people to act, shift the way someone thinks about an issue, or engage your community in bold campaigns, you need powerful, creative tools. Now there's a new board game to do just that: Rise Up: The Game of People & Power.
At the TESA Collective (Toolbox for Education & Social Action), our specialty is building tools for social and economic change. Previously, we created Co-opoly: The Game of Cooperatives to help build the movement for economic democracy. Now we've launched Rise Up so that activists can have a social justice option for game night, as well as a new, creative resource for organizing.
Imagine there's a muscle that we can train to help us think and act together instead of individually, and that we use to strategize, envision, and plan out the steps we need to take to win change. Many of us don't get the chance to use that muscle regularly enough in our daily lives. And some of the most popular games we play with friends and family—like Risk and Monopoly, which pit us against each other—don't encourage us to use it either. The point of Rise Up is to activate that muscle to collectively envision how we can fight for a better world, whether you're just playing with friends or training the next generation of social justice leaders.
Rise Up is a cooperative game, which means that players work together instead of competing against one another to win. Players have to think and act united, using different tactics to build their movement power, which helps us practice the act of strategizing about how to move a campaign forward toward victory.
When starting each game, players come up with a movement they want to build or a system they want to take on. It's your chance to play as the Fight for $15 movement, or the struggle for a fair contract at your workplace. (Or, as we recently said in Fast Company, a nonsensical goal like free pizza for everyone.)
In many mainstream board games, you need money or land to win. But in Rise Up, you win by gaining the support of everyday people. Players have to build support to use tactics like "We organize a massive march!," "General strike," and "Someone writes a protest song." The more support we build, the closer we come to beating the system and winning together.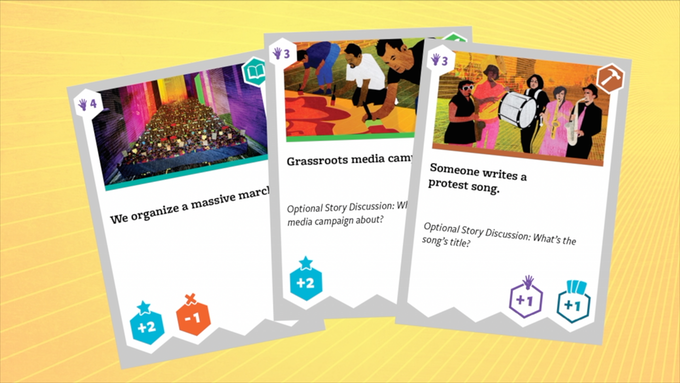 Through play and participation, we can open up space for members of an organization, coalition, union, or campaign to think about strategy and tactics in an enjoyable, low-pressure way. Because there aren't any consequences to what we imagine in the game, we can test out ideas that might unlock a new way to grow our movements. If you're involved in campaigns that challenge power, you know it can be difficult to have these strategic conversations. Our vision with Rise Up is to make these discussions not only more effective but more fun.
Most importantly, Rise Up encourages all members of a group to participate. Because just like in the labor movement, an injury to one is an injury to all. We can't win when we leave any one of us behind. So let's roll the dice and build our movements!
Darya Marchenkova is part of the TESA Collective. TESA creates resources for social and economic change, like Rise Up: The Game of People & Power, which is currently on Kickstarter. Read more about TESA's work here.