Summer 2022 Newsletter
---
Welcome to the 2022 Summer edition of the Jobs With Justice newsletter! This newsletter is meant to give you – our most dedicated supporters and allies – a way to dig into the ongoing campaigns and work of Jobs With Justice and our network throughout the year. We hope you enjoy!
---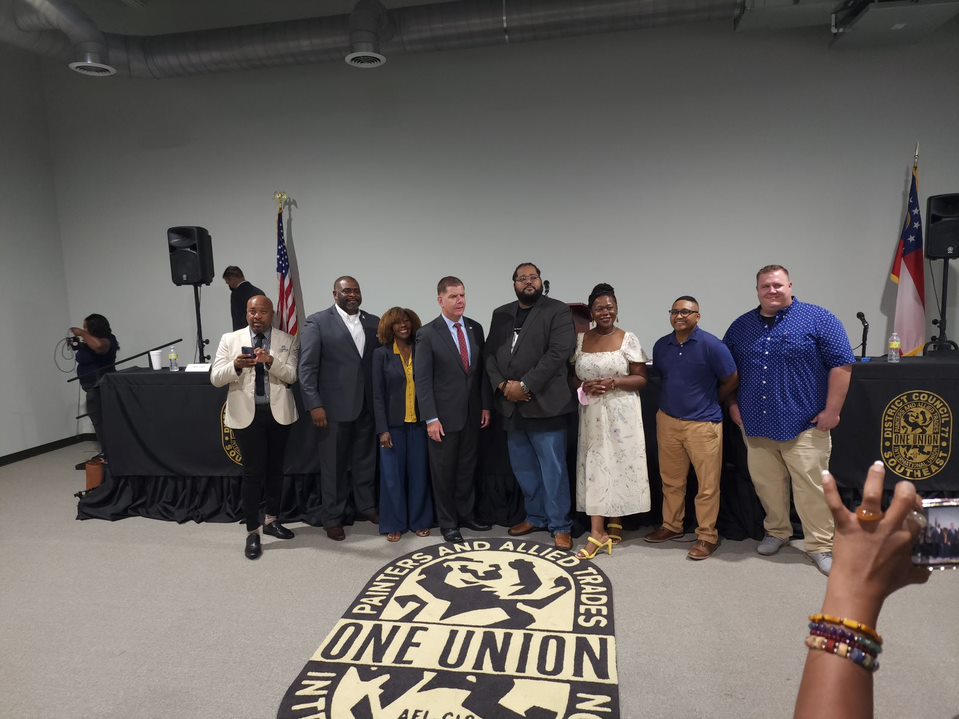 On Tuesday, July 26, ABSI partners, leaders, and fellows converged in Decatur, Georgia to meet with US Secretary of Labor Marty Walsh to talk about the issues plaguing the economy and Black workers, especially in the South. The conversation focused on the importance of collective bargaining as well as raising the minimum wage and improved job protections across the nation's labor market. "Whether it's a workplace, a community, you name it. That's what it requires for democracy, and in the U.S., collective bargaining is the pathway to getting there," said Jobs With Justice Executive Director Erica Smiley.
Walsh welcomed the feedback from the ABSI cohort, while also arguing for more federal policy to address systemic inequities. "It's partnerships with organized labor where organized labor is strong. It's a partnership with community organizations and groups and putting aside the political differences people have and talking about the sheer common goal of moving forward and improving people's lives. That's how we move forward," he said.
To read more, click here. Also, check out this short video on an upcoming series we are producing on ABSI.
---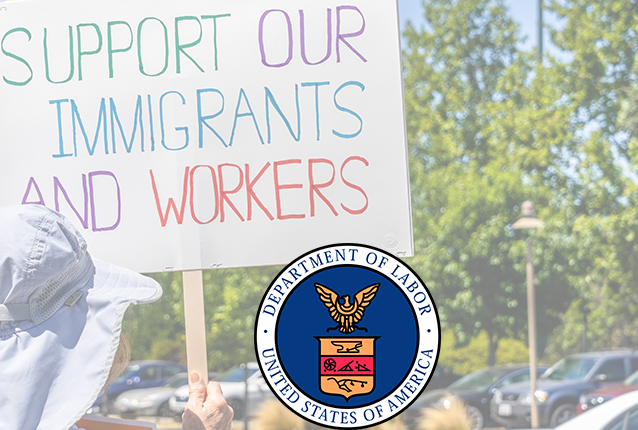 On July 6th, the Department of Labor (DOL) announced new guidance to protect workers from employer retaliation in response to workers seeking to address workplace issues. Under the new policy, workers can email the DOL explaining the problems at their worksite and the need for protection from deportation. The DOL would review the request within 30 days and if approved, send a statement to the Department of Homeland Security (DHS) to stop them from being deported. The statement would not identify specific workers so that people's identities would still be protected from DHS. Immigrant workers have usually had a difficult time voicing labor concerns because employers often hold the threat of deportation above immigrant workers.
"This is a win by and for workers who organize and fight back," said Natalie Patrick-Knox, Senior Organizer for Immigration and Workers' Rights at Jobs With Justice. "It means higher wages and better conditions for all workers. It means more effective labor law enforcement. It means immigrant workers can organize unions and assert their rights without fear."
---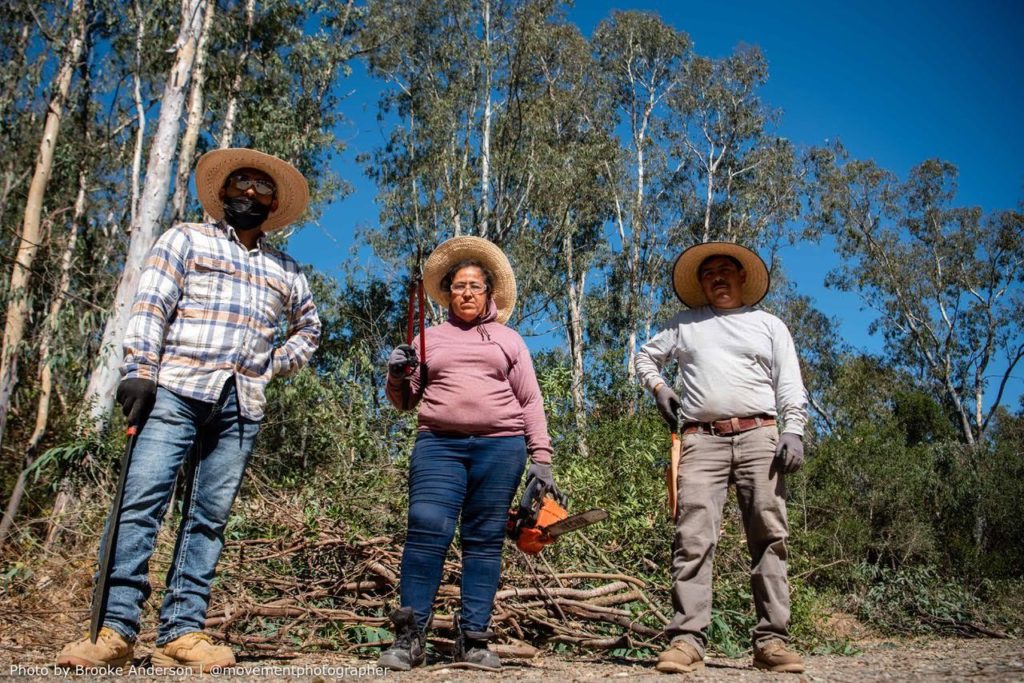 During the last half of 2021 much of the farmworker organizing targeted the wine industry and the immense profits they were making on the backs of farm workers. Beginning the first half of this year, farmworkers and organizers turned our attention to the county government and this issue of agricultural passes—passes that are given to industry during wildfires allowing them to get into an evacuation zone. Thus, workers and organizers have been pushing for the government to provide hazard pay to workers in these zones that are working in unsafe conditions.
Out of these fights, the County Government stepped up and provided a one-million-dollar disaster insurance fund for these frontline workers who lost wages due to being unable to work under these conditions. "After all, grapes are insured but workers are not currently," says Davin Cardenas, an organizer at North Bay Jobs With Justice. Workers were also able to secure disaster pay in their latest contract with E & J Gallo, the first to have ever been negotiated with a winery and a potential gamechanger in the industry.
Apart from the wine industry is climate restorative work taking place in the region. North Bay has started a 10-worker cohort of former farmworkers turned resilience workers who are doing fire prevention, vegetation management, and earth protection, making double what they would be making in the fields. "The hope is that we can begin to score more contracts for more workers on a longer term, full-time basis and really lift the contradiction of what labor can be, that it doesn't have to be exploitative—it can be a beautiful thing," Cardenas argues.
---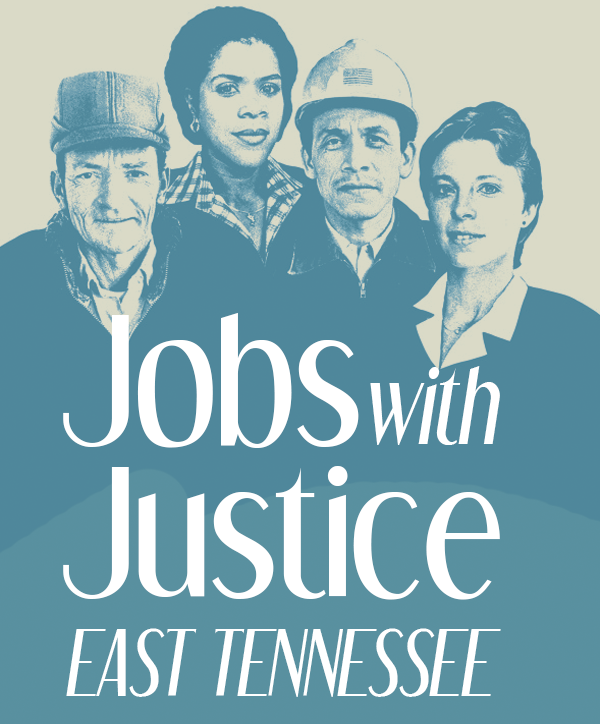 On July 21, the Biden Administration released final rules and guidelines on how tribes and states should dispense the new Abandoned Mine Land (AML) funding they will receive as part of the 2021 Bipartisan Infrastructure Law. For years, Appalachian groups have been pressuring the federal government to utilize this funding to deal with longstanding structural climate and labor issues plaguing the region because of surface mining and mountaintop removal.
This project started in 2014 as an attempt to study the AML fund which is funded by a per ton fee on coal production and goes to cleaning up old mining sites, dealing with acid mine drainage, crumbling high walls, and instability that could lead to site collapse. Out of that, Jobs With Justice of East Tennessee was able to get these provisions incorporated into the Reclaim Act under the Obama Administration, allowing them to expand the fund on projects that are high economic impact. After years of organizing, the federal government committed 11 billion of additional funding being included in the infrastructure bill. 
This is critical for Appalachian communities, it promises more jobs, it promises environmental cleanup, and it promises a more sustainable future for sites dealing with the legacy cost of coal. "When it came time to implement guidance on how to spend the money, the need for community input and clarity on which sites should be prioritized, Jobs With Justice of East Tennessee signing on to public comments gave a lot of weight to our suggestions with the Department of Interior and helped cause the inclusion of really important environmental and labor provisions within the final released guidance", says Adam Hughes, an organizer with the Statewide Organizing for Community Empowerment (SOCM), a coalition inside the Jobs With Justice of East Tennessee.
---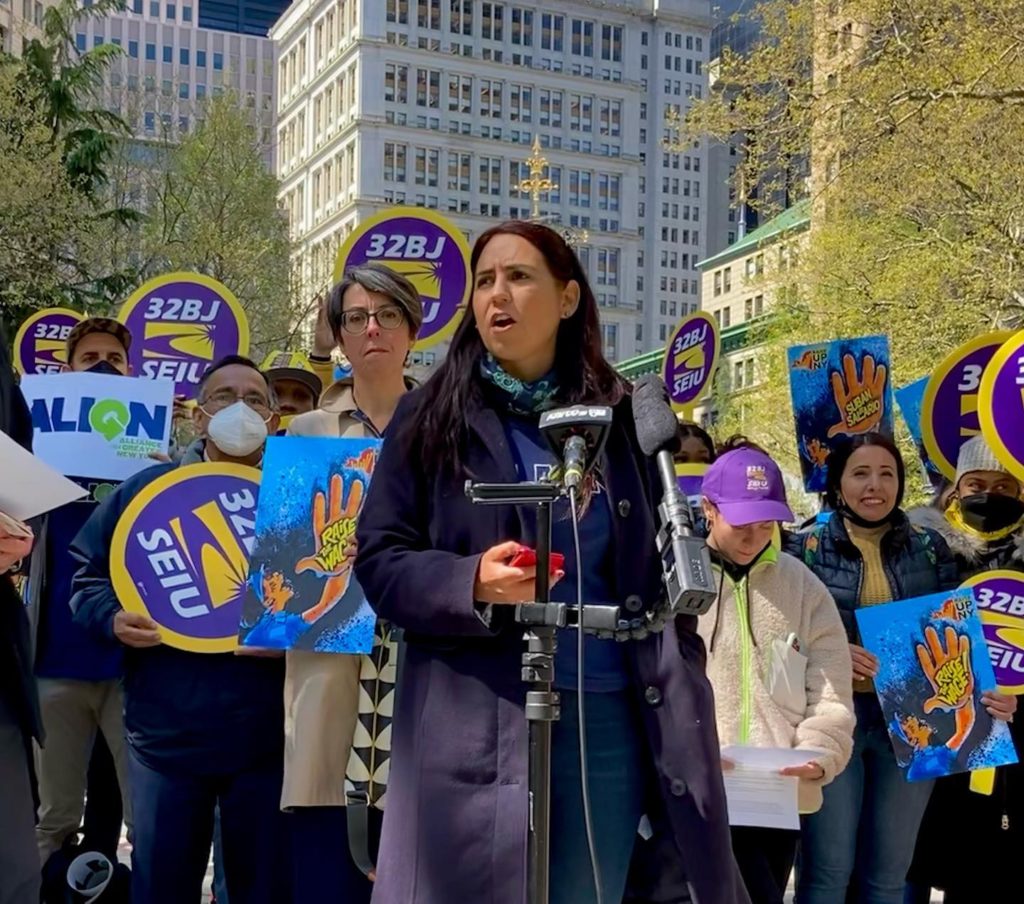 On June 3, the New York State Legislature passed the Warehouse Worker Protection Act. The bill brings much-needed clarity to the practice of secret quotas in the warehouse industry, allowing workers to know what quotas they are being judged against and protecting them from interfering with needed breaks from work. According to a report from New Yorkers for a Fair Economy, injuries increased by 64% at Amazon warehouses in New York as the company reinstated its grueling quotas after the first wave of the COVID pandemic. New Yorkers for a Fair Economy (NYFE), a coalition of labor organizations, small businesses, and immigrant and community organizations including JWJ affiliate ALIGN NY (Alliance for a Greater New York) was instrumental in securing this victory through petitions, rallies, and deep community organizing. "For too long, Amazon has profited off the backs of workers, putting their health and safety at risk. The Warehouse Worker Protection Act is a great first step to empower workers and paves the way for New York to lead with labor in the face of corporate abuse. We applaud the New York State Senate and Assembly for passing this essential bill and urge Governor Hochul to take swift action to put workers first," said Maritza Silva-Farrell, Executive Director of ALIGN, leader of the New Yorkers for a Fair Economy coalition. Read more about this here.
---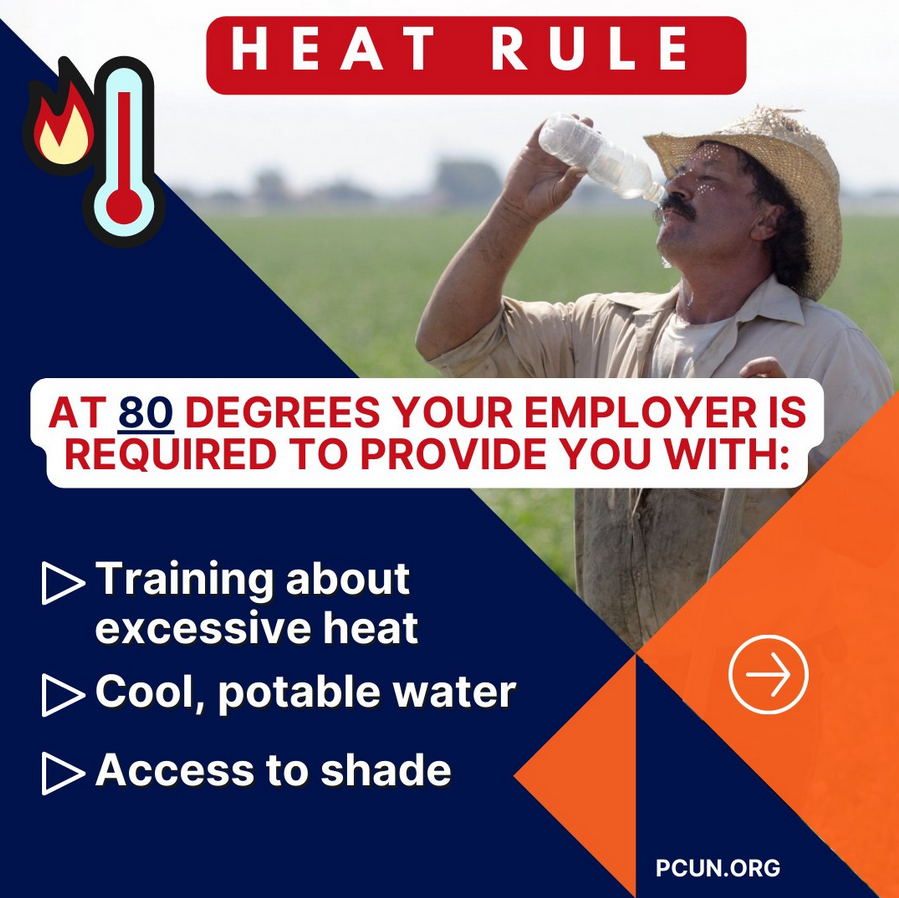 Following a major push by Portland Jobs With Justice as well as other partner groups, the Oregon Occupational Safety and Health Administration (OSHA) adopted and published permanent rules to protect Oregon's frontline workers from extreme conditions caused by climate change. Widely respected as some of the strongest climate protections to date, the new policy includes access to shade, cool drinking water, and increased paid breaks at 80 and 90 degrees Fahrenheit. They also comprise additional high heat protections at 90 degrees Fahrenheit, such as a buddy system, increased communication between employers, supervisors, and employees, and a requirement for employers to measure heat and humidity levels in indoor structures. To read more about these protections, click here.
---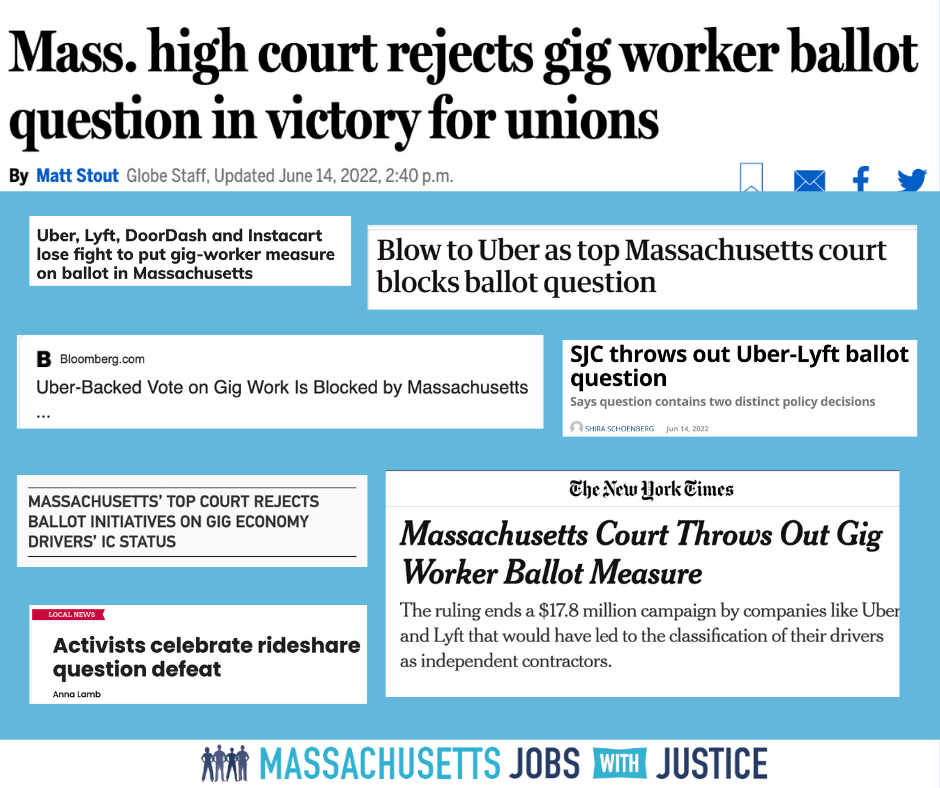 The highest court in the Old Bay State delivered a striking blow to a proposition funded by Uber, DoorDash, and Lyft on an upcoming ballot, declaring the initiative too confusing for would-be voters this November, a major relief for workers. Delivery app companies' attempt at designating independent contractor status to their workers through language intended to confuse voters is reminiscent of Prop 22, a similar ballot initiative that passed in California, a case that is currently under appeal. The Tech giant's attempt fell short due to the "Single-Subject Rule," a provision under Article 48 of the Massachusetts constitution, mandating that ballot initiatives must contain only related or mutually dependent subjects.
---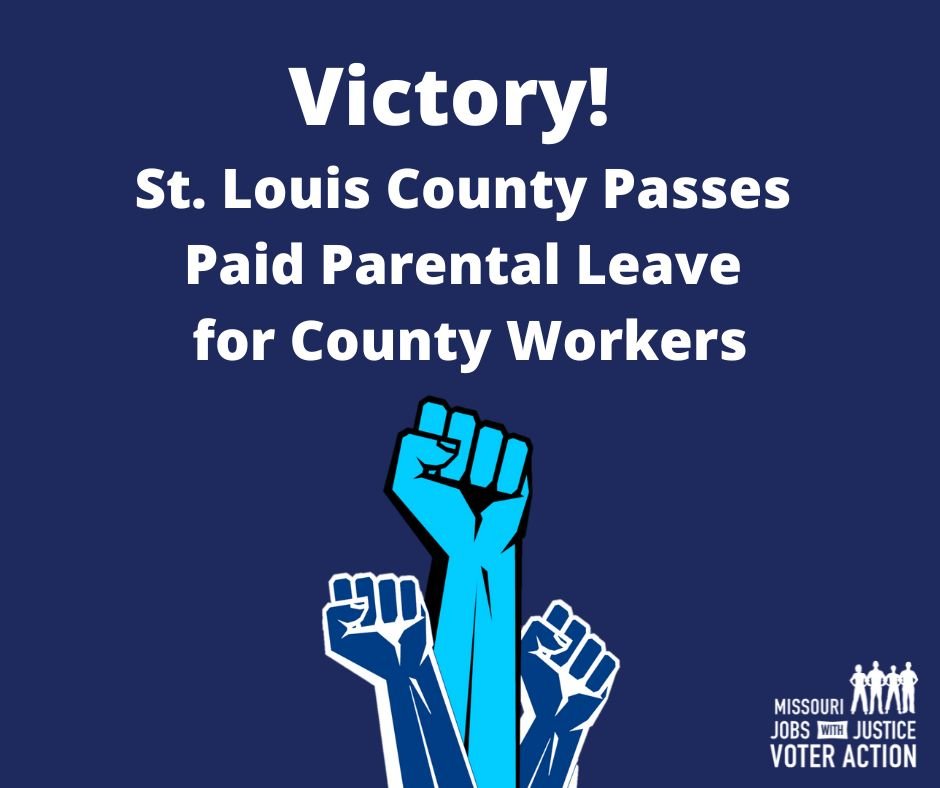 St. Louis workers received a major boost on June 3 when the city announced the implementation of paid family and medical leave for thousands of city workers. After hearing from working families about the challenges of balancing familial and professional obligations, city leadership moved forward to pass a vote. Missouri Jobs With Justice and other organizations led mobilization in support of policies like these in both the municipal and private spheres.
"Most of us work hard for our families, no matter our zip code, income, race, or job title. For too long, our families and communities have been forced to choose between making ends meet and being there for our loved ones in times of need," said Caitlyn Adams, Executive Director of Missouri Jobs with Justice. Click here to read more.
---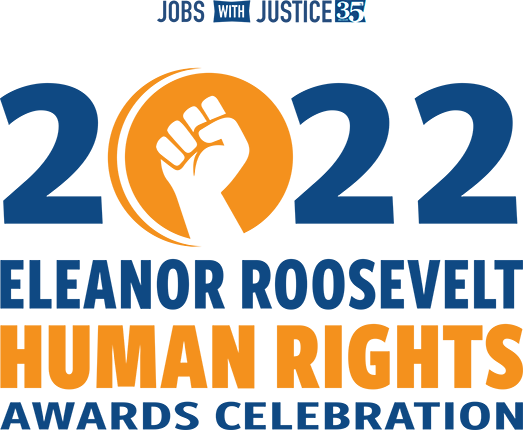 On October 18, Jobs With Justice will be hosting the 2022 Eleanor Roosevelt Human Rights Awards at the Capital Turnaround in Washington DC, our first in-person awards celebration since 2019. Our 2022 honorees embody many of the values and virtues we hold dear. From Starbucks workers who are working to organize unions in their workplaces, to bold leadership from the United Steelworkers Union, and the US women's soccer players that successfully won their equal pay suit, this is an event you cannot miss. Click here to get our tickets today!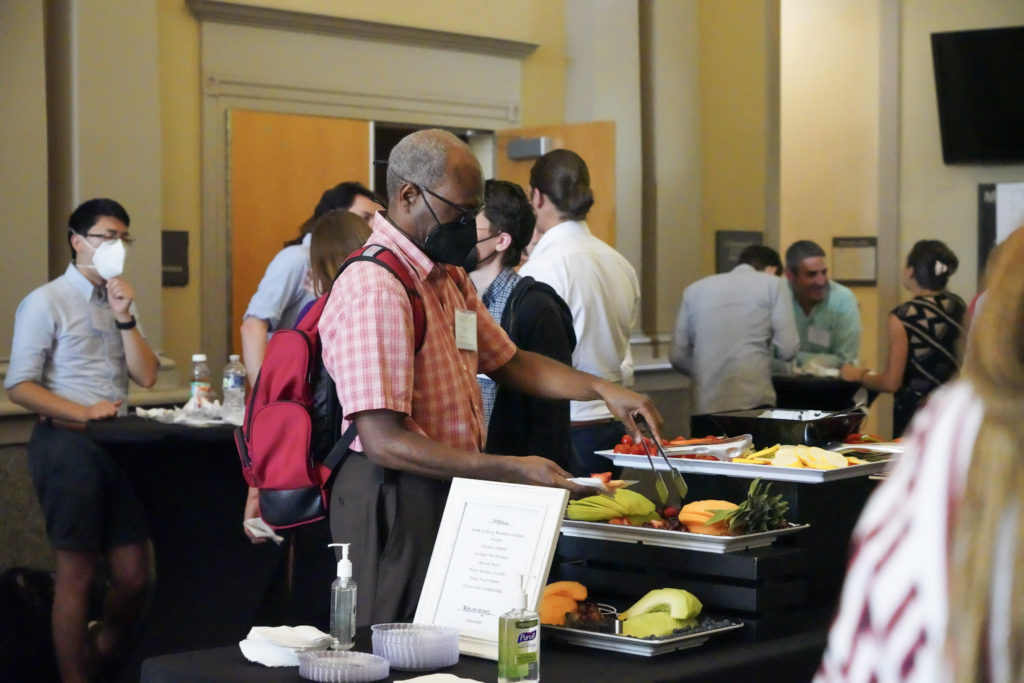 The 2022 iteration of the Labor Research Action Network conference was the first in-person gathering in several years and it was a remarkable success. Labor leaders, activists, and scholars from all over the nation came to Atlanta to strategize, organize, socialize, and ultimately absorb the wealth of information that was present at the conference. The convention also held our first-ever LRAN Worker Rival Song Competition, with many talented musicians putting forth incredible submissions. Our 100+ crowd in Atlanta was a joyful, spirited bunch who rolled with delays and heat with a lot of patience…"People told me many times this week that LRAN is where they have found their community and had the important conversations that our movement needs to have. So props to all of us for pulling this off!" said Erin Johansson, Jobs With Justice Research Director and organizer of the conference.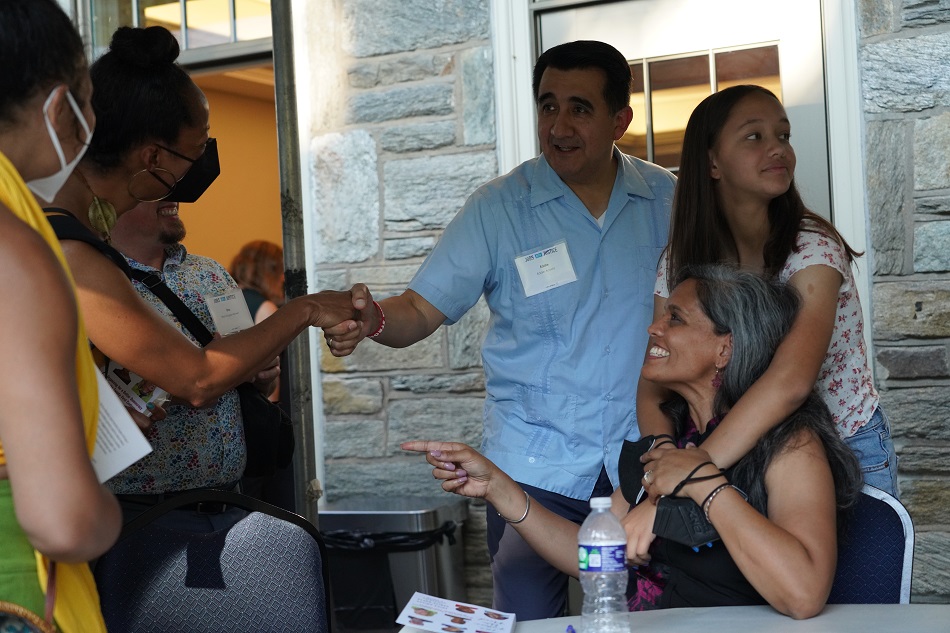 On Monday, July 11, one hundred of our closest friends convened at the Friends Meeting of Washington to both celebrate Erica Smiley and Sarita Gupta's book, The Future We Need, and Jobs With Justice's 35th anniversary. The evening was filled with laughs, remembrances, and awesome fellowship as former leaders, alumni, external partners, and supporters gathered to celebrate the incredible work that Jobs With Justice has done, is doing, and will continue to do.
The evening began with a series of toasts from former leaders and supporters, including Mary Beth Maxwell, Bill Fletcher Jr., Fred Azcarate, Chris Sanders, Larry Cohen, and Saket Soni on the outside patio. They all gave wonderful accounts of their experiences with Jobs With Justice both historically and why we are needed especially today.
We then took the party inside, where DC Jobs With Justice Executive Director Elizabeth Falcon played the role of MC, before sending us to a panel with Executive Director Erica Smiley, Ford Foundation's VP of US Programs Sarita Gupta, and UFCW 400 Executive Board Member Kimberly Mitchell to discuss The Future We Need and the importance of collective bargaining in the current moment.
The event was a major success as new relationships were formed and old ones sparked. We can't wait to see what the next 35 years will look like for us!