Last month, Jobs With Justice hosted our first in-person gathering of 2023 with thirty JWJ leaders and their union partners. New York, Central Florida, Arizona, California, Tennessee, Colorado and the District of Columbia were all represented at this convening. During the 2-day convening, National Jobs With Justice offered a powerful program that grounded us in our values, discussed organizing opportunities, and created space for strategic planning around the $4 trillion in federal funds being disbursed in the coming years.
A large part of the program was dedicated to a deep dive into the Bipartisan Infrastructure Law and the Inflation Reduction Act. We examined how these federal funds will be distributed at the state and local levels and explored tools to help track the money.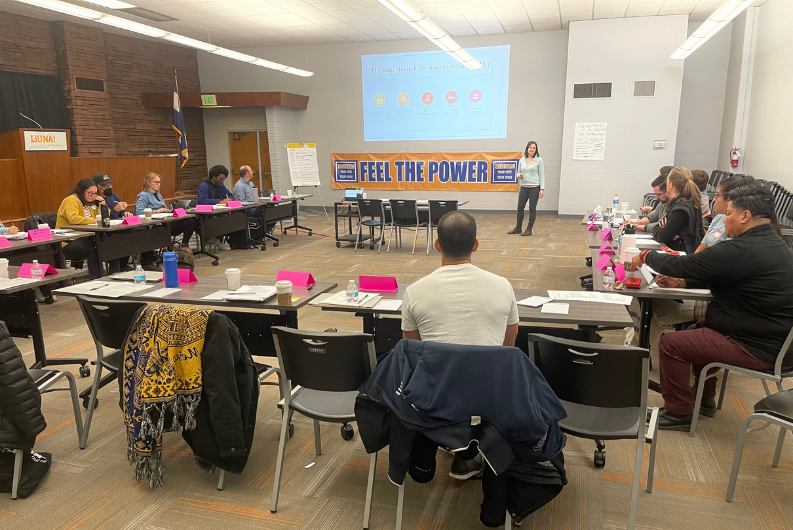 Other exciting highlights:
We were able to support the hosting local coalition, Colorado Jobs With Justice, in re-launching their Equity & Possibilities in Construction (EPIC) program.  EPIC seeks to recruit, retain, and develop women, nonbinary, and people of color into apprenticeship programs with the building and construction trades. EPIC program coordinator Nichole Foster, a journey boilermaker, convened local partners for a happy hour and dinner to re-engage them with the EPIC program. Watch Nichole share their experience with tech schools, finding a good union job, and becoming an organizer with Colorado JWJ here. 
Colorado Jobs With Justice led attendees in work site visits! We were able to talk to workers about diversity, inclusion in the trades, and the recent passage of the Denver wage theft ordinance. 
Network leaders out of Arizona, Washington D.C., Colorado, and New York discussed co-enforcement strategies and their successes and struggles with this approach. 
We made space to review the AFL-CIO's Injury 2 All Toolkit and immigrant worker protections.  
Each coalition developed an action plan to lean into the opportunities posed by BIL and IRA, including sectoral strategies in construction, transit, and telecom. 
Jobs With Justice had a goal of coming together to name values, align work, and energize network leaders and their partners to return home and fight hard. We believe we did that, and more! We're proud of the JWJ network and organizers that are working to secure jobs for marginalized folks, involving worker leaders in organizing opportunities, ensuring worker standards and protections are enforced, and fighting to secure federal funds that will strengthen their communities' climate resilience.