The time is now for immigration reform. LITERALLY.
The U.S. Senate is poised to vote on the historic, bipartisan immigration reform measure this week. We need to ensure safe passage of this bill – and make immigration work for workers!
Will you take three minutes to call your senators and tell them to vote YES on S. 744? Call now at 1-888-563-8430. Here's a call script to help you out:
Hi, as a concerned [STATE] constituent, I'm calling to urge [YOUR SENATOR'S NAME] to vote YES in favor of S.744. I want immigration that works for workers, no matter where they were born. Thank you.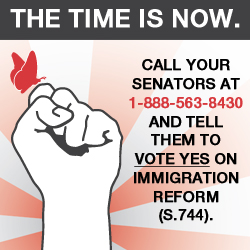 For far too long, Big Business has been manipulating our weak immigration and labor laws to exploit vulnerable workers. So we've taken a major stand this year in support of strong, broad protections for workers in immigration reform.
To be frank, the bill is a compromise. But as a result of our vigilant advocacy efforts, the measure features much stronger protections for U.S. workers, guestworkers, and immigrant workers than what we have now. And it toughens penalties against employers who abuse workers, meaning higher standards for everyone. We need to ensure the bill passes with a robust majority in the Senate to give the reform bill serious momentum because we know the House fight will be considerably tougher for protecting labor rights.
To hold the line for all workers in this defining fight, we need all hands on deck. Call your senators by dialing 1-888-563-8430 TODAY. (And let us know how your calls went by emailing us at jwjnational [at] jwj.org!)
If the Senate fails to pass a bill this week, many believe that immigration reform will be dead for 2013. We can't afford to let that happen. Together, let's make sure our nation's leaders seize the opportunity to turn the tide for immigrant workers and their families and to improve conditions for all working families in this country.
Call your Senators NOW 1-888-563-8430 and tell them we need them to vote YES this week for immigration reform.
As the debate heats up, we will continue to raise our voices to ensure that any immigration reform measure under consideration works for workers and employers alike. Immigration reform policies need to usher in a fair, broad, and inclusive roadmap to citizenship; fundamental labor rights, remedies, and whistleblower protections for all workers now and in the future; and an improved guestworker program.