Let's dream big: What if men and women owned the businesses that employed them and retained control of the wealth that those companies generated? What if these men and women decided together how that wealth was allocated: How much gets  reinvested in the company, how much gets put into wages, how much gets dedicated to offering benefits like health care? What if the businesses people work for worked for them?
It turns out this dream is actually a reality for a growing number of working people.
The Democracy at Work Institute (DAWI) estimates that there are approximately 300 worker-owned cooperatives and democratic workplaces in the United States. A worker cooperative is a business where each worker typically owns an equal share in the company and has one vote in its governance.
Worker co-ops come in all shapes and sizes. I'm part of the TESA Collective, which only has a few members (known as worker-owners). We create tools and programs to support economic and social justice, such as Co-opoly: The Game of Cooperatives. In Oakland, the Design Action Collective, which provides graphic design and visual communications for nonprofit and social change organizations, has 12 members. Rainbow Grocery, a worker-owned grocery store for local and organic foods, has more than 220 members. Cooperative Home Care Associates (CHCA) is a home-care provider in the Bronx with roughly 1,000 members. Spain has an entire system of worker-owned cooperatives known as Mondragon that is made up of tens of thousands worker-owners.
And in the cases of CHCA and Design Action Collective, the worker-owners have unionized their worker cooperatives. CHCA reached out to SEIU33 in 2003 after their workforce reached 500 people in order to create a collective bargaining process between the members and the managers. Since then, the union has also helped contribute to leadership development, management practices, and re-establishing the sense of community that was lost as the co-op expanded. In 2006, Design Action spelled out their reasons for being a unionized worker co-op, which were similarly about constantly protecting the power given to workers by democratic ownership:.
"Even worker coops find themselves facing labor disputes—especially as they grow larger and implement representative forms of management. Examples of worker-coop sectors from around the world show that unions can play an important role in preserving power in the hands of workers—even those who ostensibly share ownership."
So by working hand in hand, cooperatives and their unions can first build and then sustain worker power for the long term.
Changing the Rules of the Business Game
Unions of working people are under attack in the private and public sector. CEOs are making more than ever, and historical gains women and men have earned are being eroded. And it doesn't look like this trend is going to change anytime soon. That's why there's a growing school of thought in the labor world that we should flip the script entirely and turn employees into the owners.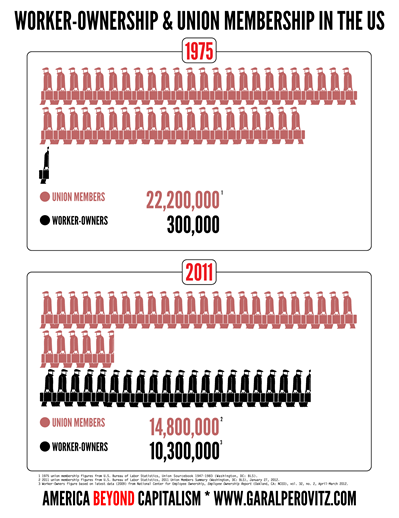 But starting a cooperative or converting an existing company into a co-op is no easy task, because many of the financial and governmental organizations meant to support business development lack an understanding of democratic worker ownership. So this is where unions can provide a helping hand—and in many cases, already are.
"[Unions] have contributed a variety of resources to help [start-up co-ops] get off the ground, such as financing, in-kind contributions and staff talent," says Laura Hanson Schlachter, a Ph.D. student at the University of Wisconsin-Madison who is researching worker co-op and union relations. "They have lobbied for cooperative-friendly legislation… Unions have brought their expertise to bear to support internal co-op conflict resolution processes and raised awareness about the worker cooperative model among their members and community partners. Although not all unions have explicitly endorsed union co-ops, those at the cutting edge are showing us what might be possible if worker cooperatives and unions came together around their shared mission of empowering workers."
As our economy and workforce are changing in profound ways, beyond the industries that have traditionally been strongholds for unions, there's considerable room for this movement to grow.
"I'd like to see unions be creative in reaching out to a new worker—the freelancer," says Frank Cetera, co-founder of the New York Cooperative Network. "Thanks to the attention that organizations such as the Freelancers Union are bringing to working on policy concerns of freelancers such as late and nonpayments, there is developing a new sense of collectivism in the industry that could be ripe for developing work cooperatives with unionized representation."
More on cooperatives and unions
Brian Van Slyke works at the TESA Collective, a worker cooperative that develops resources for social and economic change, such as Co-opoly: The Game of Cooperatives. Follow TESA on Twitter @toolboxfored.