Last week, Starbucks continued their trend of retaliation by announcing they would be closing the remaining two of three stores in Ithaca, NY. The announcement comes just one year after all three stores in Ithaca voted to unionize – marking Ithaca the first city in the country with all-unionized stores. The first store was closed in the summer of 2022. Read our full statement below.
---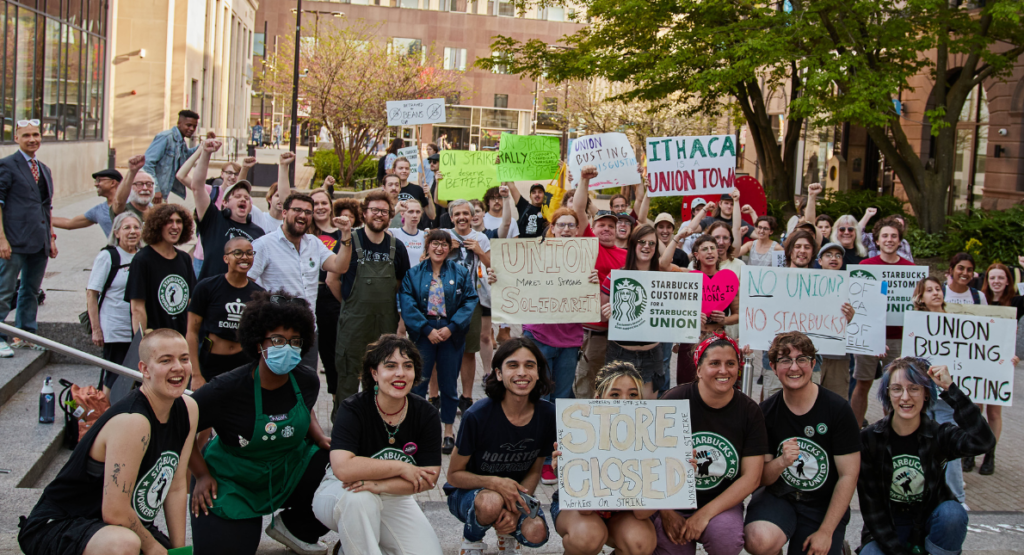 Urgent Alert: Starbucks Closes All Ithaca, NY Locations in Retaliation for Worker Organizing
As workers continue to organize at a historic pace and inch closer to governing power in their workplaces, companies like Starbucks continue to retaliate and undermine their victories. The store closures in Ithaca, New York are yet another example of the vicious anti-union campaign Starbucks is carrying out across the country where 7,000 workers at over 300 stores have voted to unionize. This is yet another reaction from a scared bully. Starbucks is afraid of workers exercising their rights and wielding power. And terrified of democracy.
Starbucks' closures in Ithaca are a clear admission of their fear. It is no accident that they chose the place where workers organized the first store — the catalyst that sparked organizing at hundreds of stores to follow. Time and time again, Starbucks chooses to retaliate against workers instead of bargaining even a single first contract. So far, judges have found that Starbucks has broken labor law 130 times since organizing efforts began in 2021.
"I was in the store when the closure was announced. I kept my composure, but I was so angry. This is the second time this has happened to me, where my job has been threatened from a store closure. I was a role model at both of my stores, always following the rules, I gave Starbucks no reason to get rid of me. But after I helped form and maintain a union at my stores, I am being forcefully ejected from my job. This is how Starbucks treats the workers who make them billions each year."

Evan Sunshine (he/him), 3.5-year Starbucks partner
While it's abundantly clear that corporations are to blame for this closure and the increasing vitriol against workers exercising their rights, policy-makers and political leaders have the tools to better support workers. The Department of Labor and the "most pro-union President" can no longer look the other way. One corporation behaving like Starbucks is a major problem, but Home Depot, Chipotle, Amazon, and so many more corporations following suit represent a systemic crisis baked directly into our economy and our democracy. It's past time for President Biden and the Department of Labor to rein in this brazen lawlessness and corporate greed.
Even as a crisis of retaliation threatens the very foundations of democracy, solidarity amongst workers cannot be squashed by wealthy corporations and powerful institutions. After the news of the Ithaca store closures, students at Cornell University occupied the office of the President to demand Cornell end their relationship with Starbucks on campus and opt for a contract with a unionized worker-run co-op.
"What remains clear, despite millions of dollars and blatant coordinated efforts to crush the power of organizing, is that workers will always come together to fight, workers will always come together to rectify wrongs, workers will always drive us towards a seat at the table. And without consequences, people with power will always fear a worker with a voice."

Erica Smiley, Jobs With Justice Executive Director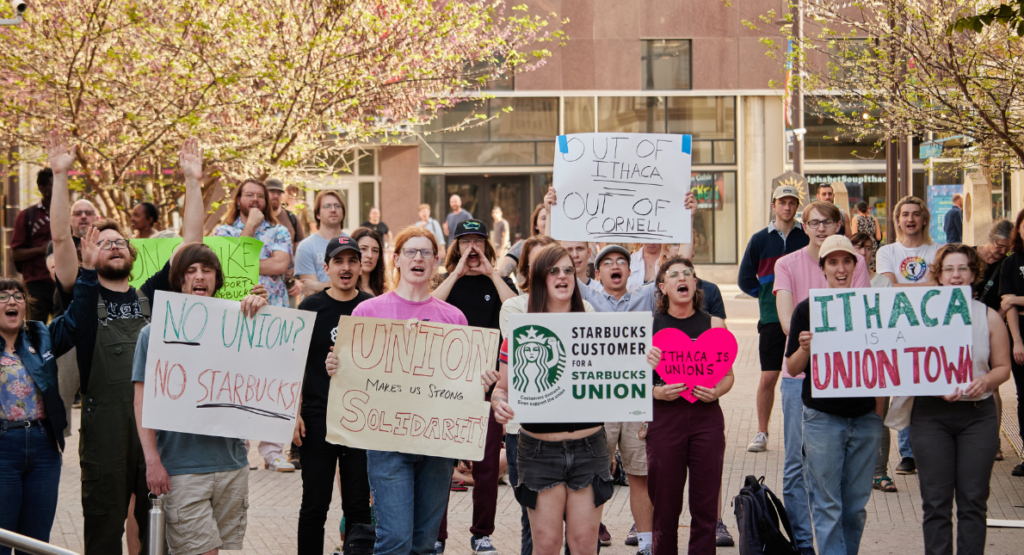 All photos provided by Aaron Fernando.